Summary
Innovation:To raise awareness to value the Girl Child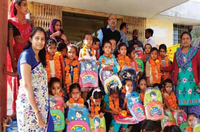 Duration: Annually
Location: Across 12 Sectors of Ahmedabad District, Gujarat
Key Stakeholders: Taluka Development Officer, Sarpanch, Talati Elected Representatives, Integrated Child Development Service (ICDS), Department of Health & Family Welfare, Gender Resource Centre, Community Members.
Brief Description
On the occasion of International Girl Child day, 11th October 2018,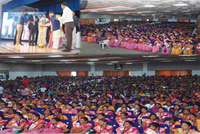 Special Gram Sabhas across 12 sectors of the 10 Talukas of  Ahmedabad District were organized to spread the message of Beti Bachao Beti Padhao (BBBP) through a coalition of Department of Health and Department of Education at the grass-roots level. This Special Gram Sabha drew focus to save, protect, nurture and educate the Girl Child by ensuring the enforcement of the PC & PNDT Act in the District. It brought people from various age groups to a common platform to address issues related to gender discrimination and disparity, which are prevalent in Indian society. Various rallies, speeches, debates and open discussions under BBBP were conducted to promote gender equality and the equal participation of girls to progress towards a gender sensitive society. The presence of eminent members of society and open discussion with them regarding challenges that girls and women face brought a sense of seriousness among the masses and created a long lasting impact to re-think and change their perspective about the Girl Child. Officials spread awareness about health-related schemes and how girls and women play a vital role in balancing the society. They also provided information related to the PC & PNDT Act and other Government services that are beneficial for the community. Members from Taluka and Sectors emphasized maintaining Guddi-Gudda Boards at the Gram Panchayat level to report any kind of gender discrimination and promote girls' education and ensure the survival of the Girl Child and nurture them. Various awards were given to girls and women who are successful in their respective fields.
Outcome, Benefits & Impact
The involvement of Officials from the District, Block and Panchayat level brought in seriousness about the cause and highlighted the importance of the Girl Child. People from the community had a chance to discuss their issues directly with the officials and seek guidance to resolve them. The awareness program and rally around BBBP Scheme made people to re-think about the social norms and promote the importance of girls and women in the society. The people at community level also learned about the various schemes and provisions of the Government that benefit society. Total 610 panchayat members were sensitized during the programme.
Challenges and Future Prospects
Activities with proper strategies should be formulated and executed on a regular basis to sustain the impact of awareness campaigns and rallies conducted at Gram Sabhas.